For Day 2 of my 10 Days of Thankfulness, I want to share about how thankful I am for the people I get to work with, particularly the youth in my church. Most of my missionary work resolves around working with these youth. I plan and facilitate weekly youth services. I organize youth events. I am constantly thinking of creative and innovative ways I can invest in them and give them opportunities to grow and better themselves. I have always loved working with youth, and I gotta say, that the youth I work with are the most amazing youth ever! I LOVE that I get to be a part of their lives, that I get to share a part of investing in them.
This past year, I've gotten to do a lot of fun/cool events with them:
Etiquette Party: We organized a formal party for our youth where they were served a 3-course meal and were taught about social etiquette and table manners. It was fun to see them get all gussied up – I had never seen some of the girls ever wear a dress before or some of the boys ever look so sharp!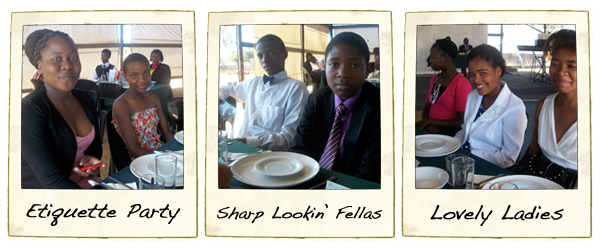 Girls Retreat: This was fun! Taught our girls about self-worth and how valuable and beautiful God made each of them. Highlights from this event were shopping (girls got to "shop" clothes, makeup and accessories that ladies from our church donated – this got a little crazy!), a Self-Esteem fashion show (each girl shared about 4 things they liked about themselves and then got to strut down a "runway") and a stiletto race (exactly what it sounds like – racing each other in stilettos!).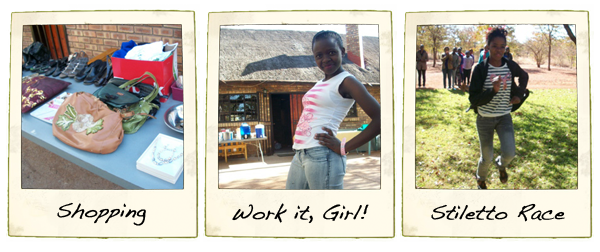 Purity Ceremony: This was my favorite event with our youth this year. Twenty five of our youth made a public commitment in front of our church family to live a life of purity, and each of them were presented with a "love waits" bracelet which serves as a symbol and reminder of their commitment. This commitment was not only a commitment to abstinence, but a commitment to leave a better legacy for their future family, their city, their country and the next generation. I'm really proud of our youth who made this commitment and I hope to repeat this event again in the future for many other youth in Botswana. (You can read more about my plans here.)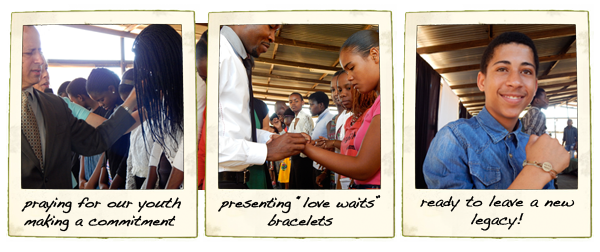 For any missionary, it's definitely a challenge at first to connect with people in a different culture, but I'm grateful to have made strides in pressing past that point, and I've developed a really great relationship with our youth. These youth have become a big part of my life, and being a part of their lives makes my life feel very FULL. And I am very thankful for that.