I was recently reminded about the power of planting seeds. There is a species of tree found in Africa known as the Baobab. This tree can grow nearly 100 feet tall and 40 feet wide. They take about 15-20 years to grow and can live over 1000 years. Baobabs are also known as the "Tree of Life" because they can store up to 26,000 gallons of water and are one of the most fire-resistant trees in the world. The Baobab starts out as a small seed that is planted. They do take time to grow, but once matured, they are resilient, abundant sources of life, able to flourish even in the most dry and barren environment. Baobabs are just magnificent.
One might call the year of 2020 a dry and barren "environment." Yes, we have had to adjust to new ways of doing things, but we have not been robbed of opportunities to plant "seeds." In small and simple ways, I have endeavored to keep planting seeds – saying a prayer, sharing a word of encouragement, sharing from what I have, volunteering my time, using my gifts to serve others. I feel confident that these small seeds I have planted in 2020 will reap resilient, abundant "fruit" in years to come. We have each been gifted by God with good things that we can invest into the lives of others that can impact them in life-changing, lasting and perpetuating ways. I believe that the seeds that we plant today will one day – just like the Baobab tree – reap a magnificent result.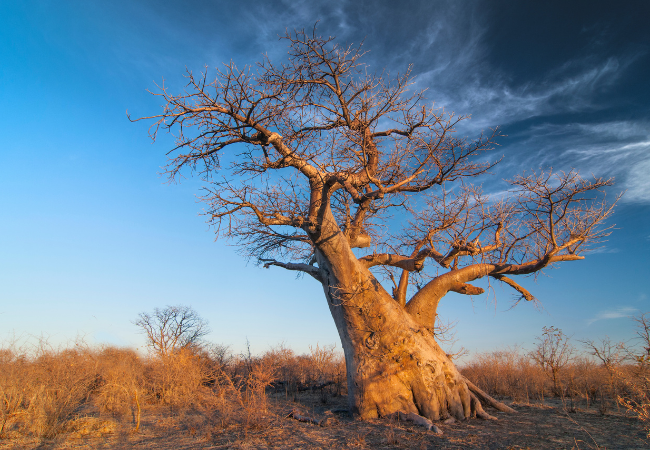 Winter has faded in Botswana and we are into the long summer season. The warm weather has brought more people to church, though we are still limited to fifty in attendance, and we continue to reach others through online ministry. I was blessed by a message (below) we received on our Facebook page from someone I had prayed for. I pray my eyes are always open to see all the opportunities I am given to plants seeds of truth in someones's life.
Good day…god is good….it was on the 15 of june when i commented and liked one of the posts on facebook by LOTWM…then i got a message in my inbox from LOTWM asking me how can they help me….i replied asking for a prayer….then they asked me how they can be praying for me…i asked for a salary increment prayer….i got a response with two scriptures to read in the bible….Philippians 4:19 and Deuteronomy 8:18….i read and prayed…..for 3 weeks…..on the 6th of july i was busy in my office at work when my boss walked in and greeted me…he asked me how was everything in the shop and i told him all was fine….thats when he told me the good news that my salary will be increased by P700.00….light of the world ministries i will continue to follow your inspiring posts on facebook…God bless u
On July 28th, I celebrated eight years of having been a missionary in Botswana! My time and experiences over the past eight years make me look forward to several more years of life and ministry in Africa.
In August, our ministry made a very exciting announcement: Early next year we will be opening a Bible school! My pastors, Matthew and Kristin Buckley, are graduates of Rhema Bible Training College and they have been approved to open an international Rhema campus in Botswana. When Rhema Bible Training Center Botswana (RBTCB) opens, it will be one of the few Bible schools in the nation, as well as in the northern district of Botswana. I am pleased to be able to use my creative talents and past experience as a web designer by serving as the Media/IT Leader for RBTCB. We look forward to training new generations of leaders and ministers in Africa! You can stay updated with our progress at www.facebook.com/RHEMAbotswana.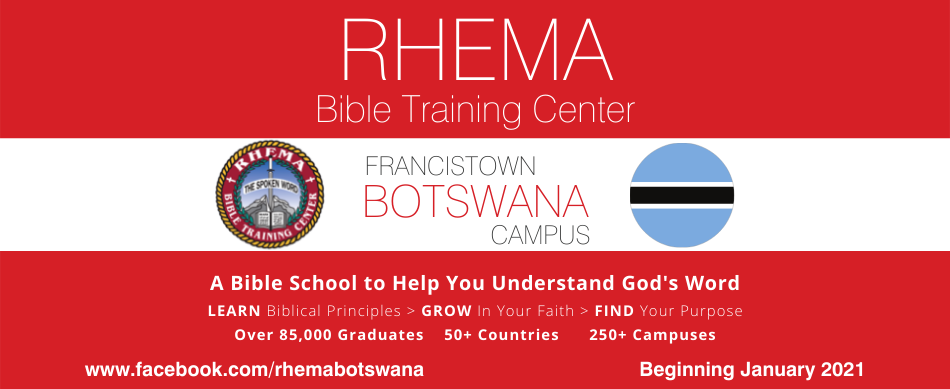 COVID update in Botswana: For the past month, the number of positive Covid cases was increasing rapidly, but just last week we actually saw a spike in recoveries. The last update we received from the government (on Oct 22) reported 471 active cases, 4438 recoveries and 21 deaths. Please agree with us in prayer that conditions in Botswana will continue to improve.
I pray you are all staying safe and keeping well. Thank you so much for remembering me and Botswana in your prayers and for continuing to give even during this challenging time!

We are excited about our Bible School and here are some specific ways you can pray with us:
God gives us wisdom to accept the right students who are ready to learn and be trained. (2 Tim 3:15)
Provision to finish our church building to provide a campus venue.
We find the right instructors to teach at our school. (Titus 1:9)
Favor with the governing authorities as we meet the requirements for becoming an accredited school in Botswana.
In the last month, over P130,000 (about $11,000) has come in for our church building! Most of this came from our own church members – what a testimony of God's blessings and provision in trying times! We are P70,000 (about $6000) away from having enough money to finish the next phase of our building project. We want to complete this next phase before the end of the year so the building can also be used for our Bible school in January.
Favor, growth and success in my new role as a Media/IT leader. I have been blessed with opportunities and resources to further train and expand my skills in media/IT. I want to operate in excellence and wisdom as I play this supportive role in a greater vision to train more leaders and ministers in Botswana.
Please agree with me in prayer to be able to travel to the States in April of next year. The president of Botswana has extended a State of Emergency for the nation until March 2021, which includes keeping our borders closed for international travel. I am praying that borders will reopen by the end of March.